65 inch interactive whiteboard with 6 points infrared touch function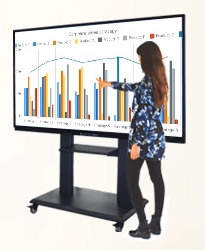 Quick Details for 65 inch touch digital signage/65 inch touch LCD display/65 inch touch advertiser/65 inch touch monitor
Type: Whiteboard, Whiteboard, Finger, Pen
Whiteboard Type: Electronic Whiteboard
Brand Name: SMT
Model Number: SMT-IWB6501
Place of Origin: Guangdong, China (Mainland)
Lifetime: 50000HRS
MAX Power Consumption: 270W
Video Format: NTSC
COM Port: USB 2.0
Item Name: Touchscreen Interactive Whiteboard
OEM: yes
Warranty: 1 Year
Backlight type: LED Backlight
Certificates: CE ROHS FCC CCC,ISO9001
Package Type: Quality carton with full wood box packing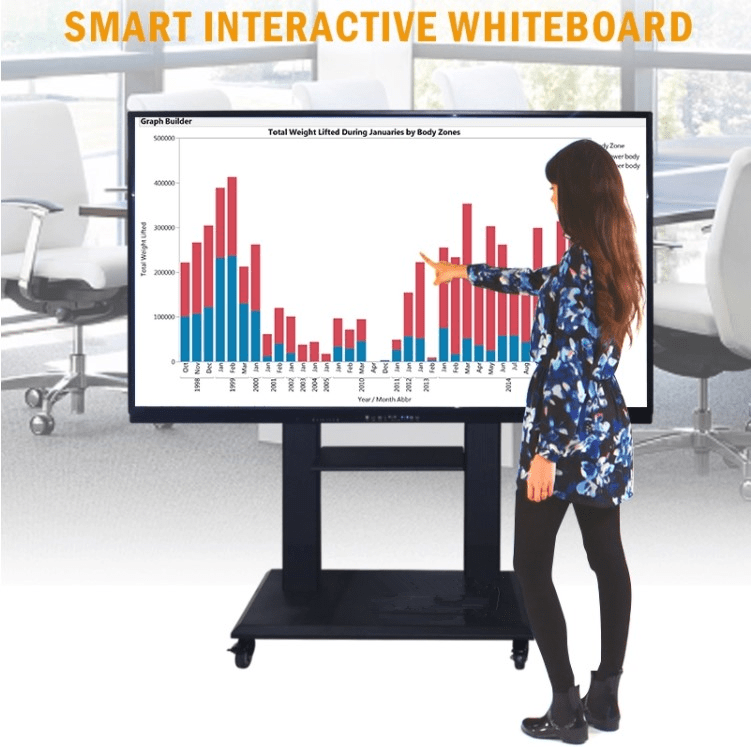 General Operation and Uses of SMT Interactive Whiteboard
♦ An SMT interactive whiteboard (IWB) device can either be a standalone computer or a large, functioning touchpad for computers to use.
♦ A device driver is installed on the attached computer so that the interactive whiteboard can act as a Human Input Device (HID), like a mouse. The computer's video output is connected to a digital projector so that images may be projected on the interactive whiteboard surface.
♦ The user then calibrates the whiteboard image by matching the position of the projected image in reference to the whiteboard using a pointer as necessary. After this, the pointer or other devices may be used to activate programs, buttons, and menus from the whiteboard itself, just as one would ordinarily do with a mouse. If text input is required, the user can invoke an on-screen keyboard, utilize handwriting recognition. This makes it unnecessary to go to the computer keyboard to enter text.
♦ Thus, an IWB emulates both a mouse and a keyboard. The user can conduct a presentation or a class almost exclusively from the whiteboard.
♦ In addition, the Interactive Whiteboard is supplied with software that provides tools and features specifically designed to maximize interaction opportunities. These generally include the ability to create virtual versions of paper flipcharts, pen and highlighter options, and possibly even virtual rulers, protractors, and compasses—instruments that would be used in traditional classroom teaching. Interactive whiteboards promote collaboration among students and group discussion and participation. They can be an effective tool for brainstorming due to the fact that notes can be taken on the board and saved to be shared and distributed to students later.
Uses for SMT interactive whiteboards may include:
♦ Running software that is loaded onto the connected PC, such as a web browser or other software used in the classroom.
♦ Capturing and saving notes written on a whiteboard to the connected PC
♦ Capturing notes written on a graphics tablet connected to the whiteboard
♦ Controlling the PC from the whiteboard using click and drag, markup which annotates a program or presentation
♦ Using OCR software to translate cursive writing on a graphics tablet into text
♦ Using an Audience Response System so that presenters can poll a classroom audience or conduct quizzes, capturing feedback onto the whiteboard
Features of SMT 65 inch Interactive Whiteboard
♦ Multi-point touch support
♦ Comes with multi-function software
♦ Comes with WIFI(optional)
♦ Equipped with multiple signal interfaces
♦ Aluminum alloy body with front access touch frame module
♦ Intelligent black board detecting features(Once black board activated, LED-backlit off)
♦ Available in a wide range of sizes: 55", 65", 70",84", 98" and 100"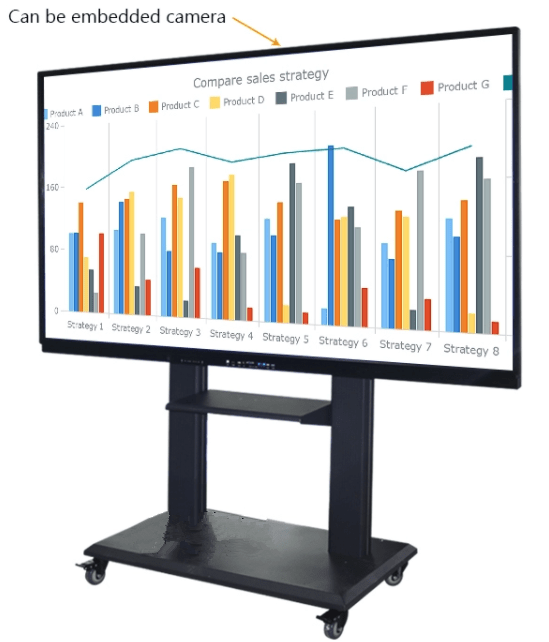 Product Name

65" interactive whiteboard

Model

SMT-IWB6501

Viewable size

1428.48mm(W) x 803.52mm (H)

life span

50000 hours

Aspect ratio

16:09

Brightness

400nits

Contrast

4000:01:00

Backlight

LED

View angle

178°(V)/178°(H)

Physical resolution

4096(H) X4096(V)

System of video

PAL/SECAM

Parameters- Touchscreen

Touch technology

Multiple infrared scanning technologies

Touch type

6 points infrared

Touchscreen embedding methods

Front access (Available for front maintenance)

drive mothed

HID free drive

The material of writing surface

4MM tempered glass(anti-glare is optional)

Touchscreen induction mothed

finger, writing pen, gloved hand or any other Non-transparent touch-sensitive media

Touch screen positioning resolution

4096X4096

Parameters - PC (OPS)

Mainboard

H81

OPS CPU

CPU: Intel Core i5

Memory

RAM 8G DDR3

Hard disk

1TB HDD

Operation system

Windows

Graphics card

Integrated

Realtek

Integrated

Wireless keyboard / Mouse

Optional

WIFI

Open end 2.4G/5G,150/300Mbps

Bluetooth

Open end

interface

USB x4, earphone output x1,MIC x1,VGA output x1,Support HDMI Input x1

Parameters - Android

Basic frequency

CPU 4-core 1.2G

System version

android 4.4.2

Memory

DDR3 1G

WIFI

IEEE 802.11 b/g/n 2.4GHz 1T1R

Flash

4G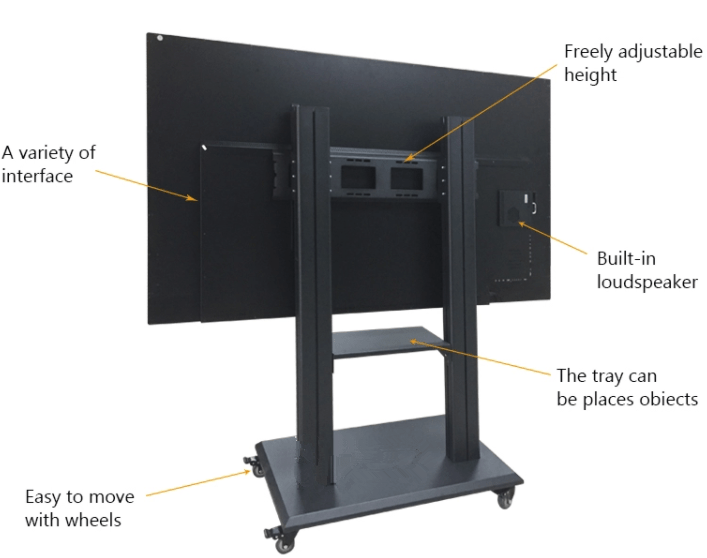 All pictures and function introduction for 65 inch interactive whiteboard here are only for reference. Accurate details referred to Instruction brochure and Physical Package. SMT has the rights for the final explanation.